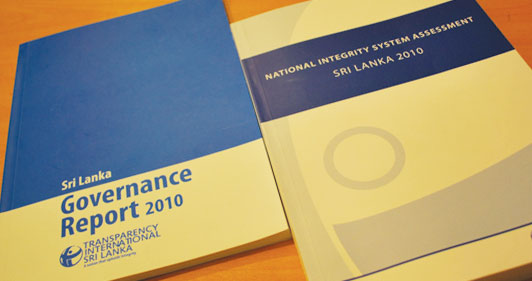 Transparency International Sri Lanka (TISL) will release the National Integrity System (NIS) study and the Governance Report 2010 tomorrow (26).
The NIS is an assessment of the National Integrity System of Sri Lanka. It has assessed 13 key pillars of the Sri Lankan governance system. The pillars included in this assessment are the Legislature, the Executive, the Judiciary, the Public Sector, Law Enforcement Agencies, the Election Commission, the Human Rights Commission, Ombudsman, the Auditor General, the Commission Investigating Allegations Against Bribery and Corruption, Political Parties, Media, Civil Society Organizations and the Business Sector on their ability to combat corruption and promote good governance.
The NIS study is a tool developed by Transparency International (TI) to assess the effectiveness of the integrity system of a given country. Transparency International Sri Lanka (TISL) conducted the 2010 assessment, and the research focuses on the period between December 2009 and December 2010. This study will be the first of its kind and will give the reader a comprehensive understanding of the integrity in the governance system of each assessed pillar.
According to the study, the Business Sector demonstrated the highest capacity in curbing corruption; while Media, Bribery Commission, Human Rights Commission, Ombudsman and Law Enforcement Agencies are deemed relatively weak in tackling issues of corruption. The overall shortcomings are attributed to five key factors:
• Lack of financial and human resources, affecting the functioning of institutions;
• Absence of public dialogue and a political culture conducive to accountability, as evidenced by the lack of debate in the parliament to make the executive more accountable;
• Impunity and limited law enforcement, leading to loss of public trust in democratic governance;
• Absence of whistleblower, witness and victim protection legislation;
• Overall climate of fear evidenced in the reluctance of independent institutions to exercise the full gamut of their powers.
The study also highlights the imperative role the regulatory mechanisms play in countering corruption and promoting good governance.
The Governance Report is an annual publication of Transparency International Sri Lanka (TISL) and the 2010 report focuses on a range of topics, revolving around a main theme, 'Centralization of Power'. The report seeks to provide an account of the key incidences and emerging trends in governance in Sri Lanka. The Governance Report is a collaborative product of TISL and a number of authors. It aims to generate public debate on the different viewpoints expressed on governance in Sri Lanka.