'Threats will not deter TISL from moving ahead'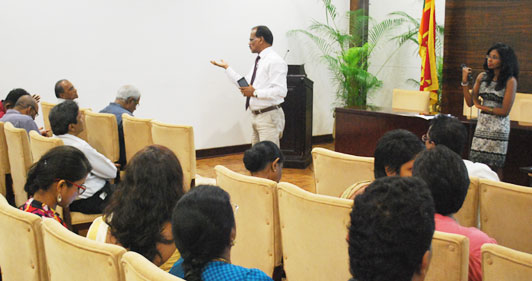 "Though threats from unforeseen elements are looming large we will not get buckled under but continue our efforts to promote accountability, good governance and integrity in the country," said TISL Executive Director S. Ranugge ` addressing the TISL Members' Day held on 27th June 2014.
"TISL has always played an active and constructive role in advocating for government transparency and accountability, but currently our work is under serious threat. More specifically, over the past few weeks, TISL activities were hampered by organaised elements. But we moved on steadily" he added.
The Members' Day immediately followed the Annual General Meeting which was presided over by Chairman J.C.Weliamuna.
At the AGM, the Directors' Report and the Audited Accounts for the financial year ended 31st December 2013 were adopted. Auditors Ernest and Young were re-appointed.
Appealing to the members to become active partners of the organization, Executive Director Ranugge requested them to rally round TISL. "Without your support and collective thinking we may not be able to face the challenges" he said. He wanted the members to follow TISL activities and contribute towards the achievement of the goals of the organization.
"We are not giving up. During the past decade we faced many turbulence times. But we managed to grow" echoed Chairman J.C.Weliamuna.
"The struggle was fraught with the excitement of dealing with the constraints imposed by a state mechanism more tensed and hyper active to further consolidate its power and influence. Our activities were disrupted. Yet we managed to continue. Hence we need to critically assess the situation and take remedial measures to face these growing challenges" Chairman added.
While appreciating the commitment and encouragement of all TISL members throughout the year, he thanked them for the ideas shared when developing specific programs. "We hope to strengthen your support and make it more systematic in the coming year," he concluded.
Presentations were made by Manager Sashee de Mel  and Senior Manager Shan Wijethunge on current TISL activities. Delivering the vote of thanks, Admin Manager Achini Gomez thanked the staff and the members for their tiring efforts to make the members day a success.