Jaffna offshore islands struggle without water
By Sandran Rubatheesan in Jaffna
Water has become scarce for the few families in the northern islands offshore from Jaffna, who also face drought from April until the often-delayed seasonal monsoon rains.
"Ten years ago, this was not the case. We had drinkable water from our domestic wells and farming lands, but later, the water became salty. Even during dry seasons, we were able to lead a decent life with adequate drinking water from nearby reservoirs and ponds. But today, it is a daily struggle," said Vadivel Theiventhirarasa, a father of seven, who lives with his extended family of 12 at eighth division of Ambigainagar, a remote village in Velanai.
He said owners of domestic wells with drinkable water are protecting them. Every morning his wife and children have to walk two kilometres to take a bath in a nearly dried-up pond and to wash their clothes. Twice a week, water bowsers distribute water at points near lanes and junctions.
Families depend on private suppliers to get just six litres of water. Most of these private water distributors supported by Non-Governmental Organizations (NGOs) charge Rs 1 per litre. For a bundle of 1,000 litres the charge varies from Rs 800 to Rs 1,000 based on suppliers who pump water from various unknown sources in Jaffna and transport to drought affected areas.
No one knows if the water is clean, nor its source. Drinking water supplied by local government authorities is limited to six litres per person at 0.77 cents per litre. The total cost is covered by the Disaster Management Centre.
There are health and hygiene concerns, too. A school teacher in Velanai told the Sunday Times most students skip school because they do not have sanitation facilities. Since the water shortages have become a major issue in the northern islands over the years, many families have moved to urban areas is search of decent living as well as health care and education.
Those who remain are fisher families. According to population data at Island South Divisional Secretariat, which covers the regions of Mandaitivu, Allaipiddy, Mankumban, Velanai, Pungudutivu and Nainativu, the number of registered persons declined significantly from 16,396 in 2018 to 15,000 from 4,900 families in 2019.
In 2017, 18,674 were reported to be residing in the area but the numbers have dropped.
Namasivaayam Karunakaramoorthi, the chairman of Velanai Pradeshiya Sabha, said that a sustainable water supply plan is essential. "Even though many drinking water and sanitation programmes were initiated in the past by Central and Provincial governments, nothing was successful," he said. Local government authorities responsible for distributing safe drinking water to drought affected remote areas are also aware that ground water is depleting because of over-extraction. What remains is being contaminated with salt water.
Locals in Chaati, Mankumaban areas where remaining water resources are exploited, are opposed to excessive pumping of water. After private water distributors were banned from pumping water, they looked to domestic wells and ponds in other areas of Jaffna.
Meanwhile, the local government has begun rainwater harvesting, and repairing reservoirs and ponds. The government officials have asked famers to build low ridge boundaries in farming lands to trap rainwater. Emeritus Professor Pon. Balasundarampillai, who was born and bred in Velanai believes that poor maintenance of public water resources is the reason for the water shortage. "Soon after the exodus in the 1990s, most of the middle-class families left the region to parts of Jaffna. Today most of the people who remain are from fisherfolk and unskilled labour communities. The region's economy which was based on palmyra, paddy cultivation, fishing, livestock totally collapsed," Prof Balasundarampillai, said while noting that people have no incomes.
The National Water Supply and Drainage Board (NWSDB) in Jaffna is engaged in a five-year project, 'Maruthankerny Desalination", due for completion by December 2021. The US$270 million, (Rs 35.42 billion) Asian Development Bank project would ensure water for 300,000 families across many parts of the North including coastal areas, Jaffna Municipal limits and Kilinochchi. In the meantime, the NWSDB with the support of the Presidential Secretariat has taken steps to distribute sea water purifying reverse osmosis plants in Punkudutivu, Velanai, Mandativu, and Kayts. The units are capable of purifying 10,000 litres per day depending on the water resources. The first two are to be handed over to beneficiaries in Kayts and Punkudutivu next week by President Maithripala Sirisena.
Regional Manager of NWSDB in Jaffna, A Jegatheesan told the Sunday Times that even though the current drought is severe, measures are being taken to ensure potable water.
"We are hopeful that once the Maruthankerny project is completed, drinking water won't be a major issue for those in drought affected areas in the future," he said.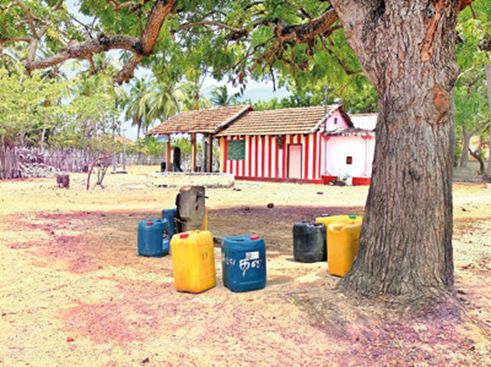 A water collection point in Velanai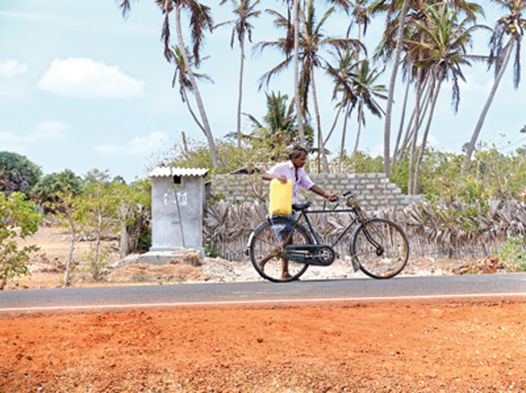 Kayts: A man pushing his cycle carrying potable water