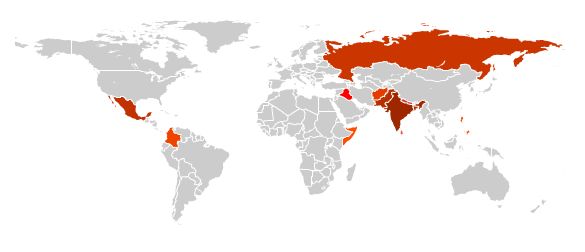 CPJ's 2010 Impunity Index spotlights countries
where journalists are slain and killers go free
New York, April 20, 2010—Deadly, unpunished violence against the press has soared in the Philippines and Somalia, the Committee to Protect Journalists has found in its newly updated Impunity Index, a list of countries where journalists are killed regularly and governments fail to solve the crimes. Impunity in journalist murders also rose significantly in Russia and Mexico, two countries with long records of entrenched, anti-press violence.
But Brazil and Colombia, historically two of the world's deadliest nations for the press, each made marked improvement in curbing deadly violence against journalists and bringing killers to justice, CPJ found. Recent convictions in Brazil, in fact, moved the country off the index entirely.
"We've heard repeated pledges from governments that the killers of journalists will face justice, but until these promises are fulfilled, media will continue to be targeted by those who believe they are above the law and immune from consequences," said Joel Simon, CPJ's executive director. "One country, Brazil, made its way off this list of shame by investigating and prosecuting the perpetrators in these crimes."
This is the third year CPJ has published its Impunity Index, which calculates the number of unsolved journalist murders as a percentage of a country's population. In compiling the index, CPJ examined journalist murders in every nation in the world for the years 2000 through 2009. Cases are considered unsolved when no convictions have been obtained. Only those nations with five or more unsolved cases are included on the index, a threshold reached by 12 countries this year.
Two countries immersed in conflict top the list. Iraq is at number one with 88 unsolved journalist murders, while Somalia is second, reflecting insurgents' routine use of violence to control the news media. But many of the remaining countries on the index present themselves as democracies with functioning law enforcement, nations such as India, Russia, the Philippines, and Mexico.
In the Philippines, a record 30 journalists and two media support workers were brutally murdered in an election-related massacre in Maguindanao province in 2009, catapulting the country from sixth to third on the index. The massacre overshadowed gains that Philippine authorities had made, winning convictions in two journalist murders. In Russia, which is ranked eighth on the index, three journalists were slain in 2009, bringing the country's 10-year total of unsolved murders to 18. Mexico moved up two spots, to ninth, reflecting the ongoing, unchecked violence against crime reporters in that country.
In many nations on the list, the plague of impunity is having a broader effect on society as a whole, effectively choking off the flow of news and information. In Sri Lanka, fourth on the index with 10 unsolved murders, many of the country's most senior journalists have fled into exile in fear that they, too, would be targeted. In countries such as Mexico, CPJ research shows that self-censorship has been so widespread that major events and issues have gone uncovered.
CPJ developed the Impunity Index in 2008 to monitor trends over time in countries where journalists are regularly murdered and law enforcement falters. It is compiled as part of CPJ's Global Campaign Against Impunity, which seeks justice in the murders of journalists. Underwritten by the John S. and James L. Knight Foundation, the campaign has focused on two of the world's worst offenders, Russia and the Philippines.
"Our goal in compiling this index is to spur leaders in these nations to action," said CPJ's Simon. "Many of these cases are solvable—the perpetrators have been identified but authorities lack the political will to prosecute."
CPJ is releasing the 2010 Impunity Index to coincide with an international summit on impunity being held today and Wednesday in New York. The summit will convene press defenders and journalists from around the world to coordinate and improve strategies to reverse deadly violence against the press.
Among the other findings in CPJ's Impunity Index:
Impunity in media killings is acute in South Asia. Six nations in the region—Sri Lanka, Afghanistan, Nepal, Bangladesh, Pakistan, and India—are included on the 2010 list.
Worldwide, more than 90 percent of victims are local reporters covering sensitive topics such as crime, corruption, and national security in their home countries.
In Brazil, prosecutors recently won convictions against four men, including three members of the military police, in the 2007 murder of Luiz Carlos Barbon Filho. Brazilian authorities have successfully prosecuted several other journalist murders in recent years. With only four unsolved murders still on the books, Brazil no longer meets the threshold for inclusion on the index.
Some other notable convictions took place in the last year. In the Philippines, a suspect was convicted in the 2006 murder of Armando Pace, while another defendant was convicted in the 2005 killing of Edgar Amoro. In a landmark Colombian case, three former public officials were convicted on charges of plotting the 2003 murder of radio commentator José Emeterio Rivas.
Threats against journalists are a key indicator, CPJ research shows. In at least four out of every 10 journalist murders, the victims reported receiving threats before they were killed.
Killers of journalists aim to send a chilling message to the entire news media. Almost a third of murdered journalists were either taken captive or tortured before their death.
 
For a detailed explanation of CPJ's methodology and Other Datails click here.