Sambashana Discussion in Jaffna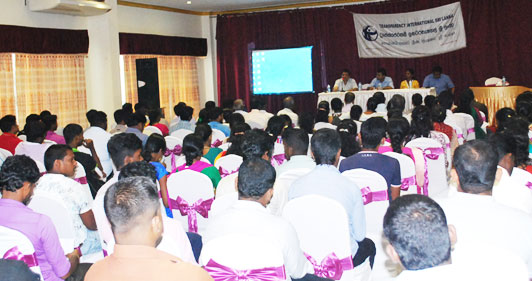 Transparency International Sri Lanka (TISL) with support from the European Union held Sambashana discussion in Jaffna on 'Challenges Faced by Northern Voters"' on 13 November 2015. This discussion was organised to address the high number of rejected votes from the Northern Province at the last General Elections held in August 2015, where the Northern Province had the highest number of rejected votes in relation to the number of votes cast in the region.
The discussion addressed challenges and obstacles faced by voters and create awareness among the public in the Northern Province on voters rights and issues relating to the administrative know-hows on casting their votes. In retrospect the discussion topics included addressing the issue of high number of rejected votes, voter registration and voter identification and the 'none of the above' option on the ballot paper to ensure the voter's right to reject all contesting candidates. The discussion also touched on the proposed electoral reforms to the local government elections and the delimitation of electoral limits and highlights of the report gazetted by the Delimitation Commission.
The Sambashana discussion was moderated by, Ainkaran and the panel of speakers included a Additional Election Commissioner M.M. Mohammed, TISL's Senior Manager for Advocacy and Communication, Shan Wijethunge and Sridharan Sabanayagam. A crowd of over 150 participated in this Sambashana, despite there being a hartal in the Jaffna City area. The participants were not just from the Jaffna district but also from Vavuniya, Kilinochchi, Mannar. The discussion was interactive and dynamic with active participation from the participants. It is believed that this discussion helped in making an impact on voter education in the region and in creating awareness for eligible voters on their voting rights and duties.