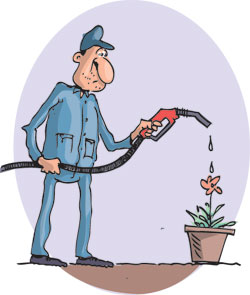 DailyMirror.lk:    
The latest scam to hit Sri Lanka is that of the purchase of 20,000 metric tonnes of low quality petrol, which was found to be nowhere near the expected octane 90 standard. A Sunday newspaper revealed the petrol-bombshell news that this stock was tested at a laboratory and found unfit for use because there were metal particles and other substances which could damage motor vehicles. But a top official had reportedly ordered that the contaminated stock be released to filling stations and as a result thousands of motor vehicles were damaged as were pumps at filling stations with repairs costing several hundred thousand rupees.
As in other scams, in this instance too there appears to be no one claiming responsibility or held responsible for the circumventing of tender procedure and purchasing the stock from a United Arab Emirates supplier who is not registered and as such one with an unknown road record. When the news broke out, Minister Susil Premajayantha not surprisingly gave a number of reasons for what could have happened. He said the petrol was purchased in a hurry fearing a shortage because of a 10-day breakdown at the Sapugaskanda oil refinery and that it was purchased from this particular supplier because the regular suppliers were unable to deliver the stocks on time and also because they had jacked up the price knowing the Petroleum Ministry was in a bind in its attempts to overcome the petrol shortage.
In an apparent attempt at vindicating the Ministry, the Minister said the petrol could have got mixed up with rain water. He had conveniently forgotten that we are in the midst of a drought and this kind of thing had not happened even during the heavy rains early this year. Another reason he gave was that the petrol might have got mixed up with the sludge in the storage tanks at filling stations. But is there no sludge at other times too when fuel levels in storage tanks hit bottom?
Eventually most of his claims or statements were found to be baseless if not absurd. As usual in instances such as this, the Minister acting the hero stopped the distribution on the balance 3,000 metric tonnes of this low quality petrol, threatened to take action against those responsible and said he had suspended payment to the supplier. But stopping payment is easier said than done because the purchase was made on an irrevocable letter of credit and the practice is to release the funds after the stocks are accepted by the buyer after verifying their quality. In this instance not only had the buyer accepted the petrol but had even released them to the filling stations. Those whose vehicles were damaged after using this low quality petrol were asked to call several hotlines, provided by the Ministry. But to their consternation they found that the hotlines had turned out to be dead lines and no compensation has yet been paid.
The fresh stocks of petrol which were purchased  must have been at a premium and how did the new stocks get here so soon? Isn't this another case of indiscriminate misuse and wastage of public resources with people's trust betrayed and the government's credibility badly dented? Abdicating moral responsibility, the lack of accountability and transparency is as deplorable as the hurried purchase and distribution of the low quality petrol.
Before attempting to transform Sri Lanka into any sort of a hub let the Rajapaksa regime be inspired and determined to transform this country into a hub where good governance based on principled leadership within a participatory democracy, accountability, judicial and media freedom takes centre stage.