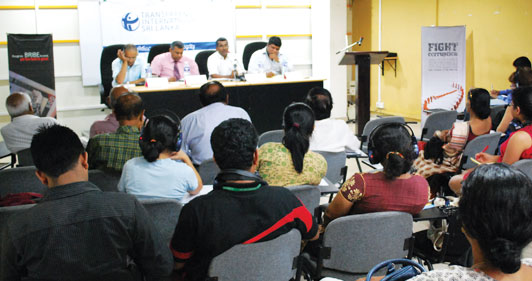 "There is no way that the 18th Amendment can be made to work. It must be repealed," said Dr Jayampathi Wickremaratne  PC – expert in constitutional law addressing a panel discussion organised by TISL to examine ways and means of how best the provisions of the 18th Amendment to the Constitution can be implemented. "As I have always advocated, the Executive Presidency must be abolished," he insisted.
Another panellist, Dr Prathibha Mahanamahewa – Senior Lecturer – Law Faculty, Colombo University was critical of the Opposition in Parliament for not making use of the provisions in the 18th Amendment to make their voice felt. He quoted the instance of appointing members to the Parliamentary Council and other Commissions when the Opposition could make their voice heard even if their suggestions were rejected.
Mr K W Janaranjana – Deputy Editor,'Ravaya' pointed out that he was always against the 18th Amendment and will remain so. Although the 18th Amendment was passed as an "urgent piece of legislation", there doesn't seem to be any urgency in implementing its provisions, he pointed out. He did not see any way how the provisions can be made use of in the interest of democracy other than repealing it at the first opportunity, he stressed.
Attorney-at-Law Senura Abeywardena was the moderator at the panel discussion which was the first in a series planned by TISL to discuss current issues affecting the nation. The objective of TISL is to create a platform for a social dialogue.
Attending the discussion were academics, members of the legal fraternity, senior journalists, activists in human rights and democracy, trade union leaders and civil society representatives. The participated in a lively discussion following the presentations by the panellists.
The discussion was held at the auditorium of the Sri Lanka Press Institute (SLPI) on 30 March 2011.
2,429 views
Category: Activities, National Level Governance Assessments, Networking, Press Releases, The 18th Amendment